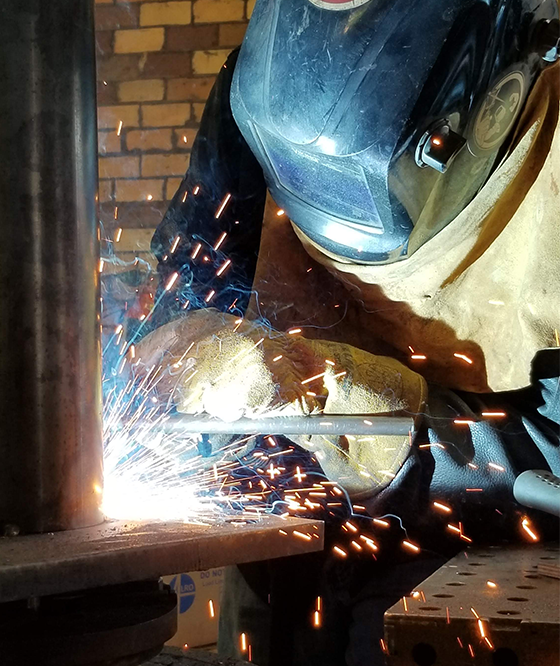 We currently offer the following services.
Production Welding and Fabrication
Welding services including MIG (GMAW), TIG (GTAW), and Stick (SMAW).
Cast iron repair- We are now qualified to D11.2:1989(R2006) Guide For Welding Iron Castings
Electro Chemical Cleaning (Passivation)
Marking and Etching
Plasma cutting
Material sales
Serving the oil, gas, and drilling industries with fabricating anything from small tanks to full pump skids.
Food Grade/High Purity Welding
Structural Steel
Shearing up to 1/4" mild steel
Plasma Table. 60" x 120" x 1" thick capacity
We offer full portable welding and fabrication services. With the capability of doing anything from repairs to production runs of your parts. Our 4 trucks are equipped with SMAW (Stick), GMAW (MIG), GTAW (TIG) welding, Oxy-fuel and plasma cutting and all tools necessary to take our shop on the road. Please contact us for all your mobile welding needs. We also have the option to perform "contract welding" where we come in and perform welding with your equipment. We have found this to be a valuable resource for our customers who need help getting work done to meet tight deadlines.
Machines for portable use
Miller Trailblazer 325 EFI.
Up to 400' lead length.
Miller Trailblazer 325.
Miller Trailblazer 325 Diesel
Miller Spoolmatic 30A
Miller AEAD 200LE. Up to 400' lead length.
Miller 12RC suitcase welder. 100' lead length.
Miller 12VS suitcase welder. Up to 400' lead length.
All our other welders can be brought on site.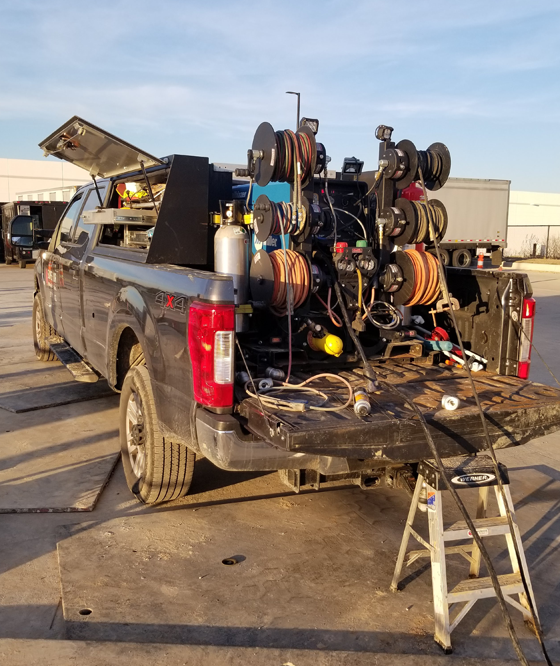 Certifications/Qualifications
AWS D1.1 Structural Welding Code-Steel

1G, 2G, 3G, 4G Plate, 1/8" to unlimited thickness. GMAW, FCAW, SMAW
6G Pipe, 1" to unlimited diameter, unlimited thickness. GMAW, SMAW.

AWS D1.2 Structural Welding Code- Aluminum GMAW
AWS D1.6 Structural Welding Code- Stainless Steel. GMAW, GTAW.
AWS D18.1/D18.1M Specification for Welding of Austenitic Stainless Steel Tube and Pipe Systems in Sanitary (Hygienic) Applications.
ASME IX Qualified. GMAW, GTAW, SMAW
Break Press. 11ga x 72"
4000lb forklift
ProFax WP-250 Welding Positioner
Fixture/Welding tables

CertiFlat FaBlock 48" x 96"
48" x 96" Weld Table

Arc Light Dynamics 60" x 120" Plasma table w/ Hypertherm 125 power source (1" cutting capacity)
Shear 1/4" x 10'-0" capacity
JD Squared Model 54 pipe bender
Ironworker 60 ton
Flexible Weld Purge Chamber

Huntingdon Fusion Argweld® Weld Purging Enclosure® 36" dia.
TIG (GTAW) Welder(s)

Miller Dynasty 400 AC/DC
Miller Diversion 180 AC/DC
CK Worldwide MT200 AC/DC
MIG (GMAW) Welder(s)

Miller Millermatic 350P w/push pull aluminum gun
Lincoln 350MP w/watercooled Abicor Binzel guns

Walter Surfox 305

Electro Chemical cleaning. Commonly known as Passivating.
Marking and Etching. Great for putting your logo or part numbers on products we complete for you. Also available to mark or etch your finished products.
We at Superior are proud to work with the best companies out there. Each week new customers approach us to fulfill their needs. Our current trusted customers are;
Brasfond USA
PAR Electrical Contractors
Quasar Energy Group
The J.M. Smucker Company
John F. Kennedy Space Center
United Airlines
Opal Fuels
Texas A&M Forest Service
LUK Transmission/Schaeffler
4D Machine
JAE Tech
S. G. Morris Co., LLC
Red Head Brass, LLC
Mid West Forge
Space X
Blue Origin